Homemade Ras el Hanout - The Complex,
Traditional Moroccan & North African Mix 
For folks who love making homemade mixes, ras el hanout is their dream blend! Hailing from Morocco, but used throughout North Africa, this complex recipe really gives you the chance to use ingredients that you don't normally get the chance to experience. Feel free to experiment! (See the bottom of the page for other recipes)
Note: For this Moroccan spice mix, I recommend using whole ingredients when and where you can. However, If you don't have some of them all available, just use pre-ground powders, but reduce the amount the recipe calls for by half. For example, if it says 1 tablespoon mustard seeds you would use 2 teaspoons pre-ground mustard etc.
Ras el Hanout Recipe
What You'll Need: (makes about 10 tablespoons)
2 tbsp coriander seeds (cilantro)
1 tbsp mustard seeds
1 tbsp cumin seed
1 tbsp allspice berries
1 tbsp cubebs
1 tbsp paprika 
1 tbsp galangal powder
2 tsp turmeric 
2 tsp grains of paradise
2 tsp sumac
1 tsp szechuan peppercorns
1 tsp annatto seeds
1 tsp ginger powder
1 tsp garlic powder
1 tsp nigella seeds
1 tsp ajwain seeds
3 inch piece cinnamon
2-3 blades of mace
20-30 dried curry leaves
tbsp = tablespoon
tsp = teaspoon
Directions:
Break up the cinnamon stick
Grind the cinnamon along with the grains of paradise, cubebs, szechuan peppercorns, annatto, allspice, mace, nigella, cumin, ajwain, coriander and mustard seeds
Add the paprika, turmeric, sumac, ginger, galangal and garlic powders
Crumble in the curry leaves
Stir everything thoroughly
Store your ras el hanout in a cool place in an airtight jar and out of direct sunlight. Use within 3 months.
Note: As you've gone to the considerable effort of making this complex blend, why not go one step further and lightly toast the whole ingredients before grinding?
This will release even more flavours and aromas and is really quite a simple process. Click here for "step-by-step" info on this. (Link opens in new window)
Information on Moroccan Ras el Hanout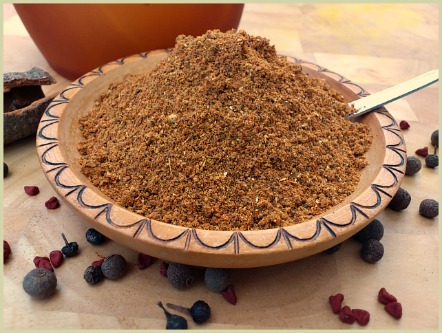 Translated from Arabic this blend means "head of the shop" or "top of the shop" and can consist of anywhere between 15 and 25+ spices!
It really gives the adventurous chef a chance to show off, and in the numerous variations available, you will often find some fairly unusual ingredients mixed in.
My variation above has a couple of seldom used ingredients, cubebs, galangal and rose petals, but compared to some I've come across mine is still quite basic.
Orris root, long pepper, lavender, grains of paradise, chufa nuts and ash berries are just a few of the exotic ones I've found used.

Here's a Video of How I Made it...
Image Links to Other Seasoning Recipes You May Enjoy
Montreal Steak Mix -
The Classic North 
American Blend

Pumpkin Spice - For
ALL Your Pies,
Puddings and
Desserts

Spice Mix Collection
For Tastier Home
Cooked Dishes
---
Spice Magic Recipe Book



If You Would Like More Recipes Like the Above,
You Can Now Buy My Book.
Click the Cover For Further Info. (Link opens in new tab)
---
---
---