Make Your Own Dessert Spice and Add Fabulous Flavours to Your Puddings

Hi
---
15th December 2016 -- Issue #95
Table of Contents
1. My Facebook Page/Youtube/Google Plus/Twitter Links
2. Recipe of the Week - Dessert Spice
3. My Recipe Book
4. Top Tips on Toasting and Grinding Spices For Fab Flavours and Mouthwatering Aromas!
---
Facebook/Youtube/Google+/Twitter Links
To keep up to date with new recipes and herbs and spices info,
I have a Facebook page you may like...
Here's my Youtube channel with all my spice mix videos...
And if you're a Google Plus user...
And if Twitter is your thing...
---
Homemade Dessert and
Pudding Spice Mix
This easy to make spice mix is the perfect blend of ingredients for adding superb flavours and mouthwatering aromas to all your fruit pies, desserts, pastries and puddings.


Makes about 5 tbsp
2 tbsp coriander seeds
4 tsp allspice berries
2 tsp ginger powder
1 tsp whole cloves
1 tsp nutmeg powder
3 inch piece cinnamon stick


tbsp = tablespoon
tsp = teaspoon

Directions:
Break up the cinnamon stick
Grind the cinnamon pieces along with the cloves, coriander and allspice berries
Once ground, sieve into a bowl
Finally, stir in the ginger and nutmeg powders
That's all there is to it!
Store in an airtight container out of direct sunlight. Use within 3 months.
Note: You could dry toast the coriander seeds, cloves and allspice berries prior to grinding and combining. This will add even more flavours to your recipe.
See the toasting and grinding info down the page for tips on this recommended, easy to do cooking process.

Click here to see lots more of my homemade blends.

---


Spice Magic - Recipe Book
Special Offer
I've reduced the price to only $3 exclusively
for my newsletter subscribers.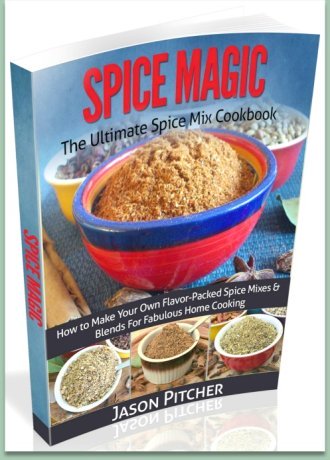 This is my new downloadable recipe book all about making your own spice mixes and herb blends.
It has 100 Recipes from all around the world ranging from the basic to fairly complex.
Just a few of the recipes you'll find within...
A Collection of BBQ Rubs

Cajun, Creole and Taco Seasonings

Curry Powder and Masala Blends

Pumpkin and Pudding Spice Recipes

Mulling and Pickling Spice Mixes

Recipes For Dry rubs

Blends From China, India, US, Africa and Europe
And Many More

It also has a 60 day money back guarantee.
No questions asked!
---
How to Toast and Grind
Dry toasting and grinding spices is the key to getting the most flavour out of your ingredients and into your home cooking...

Step 1: Add your whole spices to a dry pan over a low to medium heat and whilst stirring or shaking the pan, lightly toast them for a few minutes. When you can really smell the aromas and they start to darken, they're ready.

Step 2: Let them cool and then grind.

Step 3: For a finer blend, put them through a sieve before combining with any ground ingredients and herbs.

Click Here for step-by-step info and photos on this recommended technique.




---
Pass It On
If you like this e-zine, please do a friend and me a big favour and "pay it forward."
If a friend DID forward this to you and if you like what you read, please subscribe by visiting my newsletter page

Until Next Week,
Jason - Spice-Mixes.com
---