Pumpkin Spice - Super Easy-to-Make and Will Add Fab
Flavours to ALL Your Fruit Based Pies and Desserts

This versatile pumpkin spice is one of my favourites. Super simple to make, it uses four typical ingredients: cloves, nutmeg, ginger and cinnamon and also the added flavours of allspice berries and mace blades. But remember, this blend is not only excellent for pumpkin pie, it will also flavour ALL your fruit pies, puddings and desserts. (See the bottom of the page for links to more of my recipes)
Note: For the best flavours, I recommend you use as many whole ingredients as you can. If you don't have them whole, it's fine to substitute with pre-ground powders and reduce the quantities the recipe says. For example, instead of 4 teaspoons of allspice you use 2 teaspoon of pre-ground allspice. Reduce any others you don't have whole by half as well and stir in with any other powders when making. Click here for a version of this recipe that only uses pre-ground ingredients.
Homemade Pumpkin Spice Recipe
What You'll Need: (makes about 6-7 tablespoons)
2 x 3 inch pieces cinnamon
1 tbsp allspice berries
4 tsp ground ginger
2 tsp nutmeg powder
2 tsp whole cloves
4-5 mace blades (optional)
tbsp = tablespoon
tsp = teaspoon
Directions:
Break up the cinnamon and, if using, the mace blades
Grind the cinnamon and mace pieces along with the cloves and allspice berries
Finally, stir in the ginger and nutmeg powders
Store in an airtight jar in a cool place and out of direct sunlight. Use within 3 months.
Note: If you would like to add even more taste to your recipe,  I recommend dry toasting the whole ingredients prior to grinding, cooling and combining with the powders.
The heat from toasting releases their essential oils and huge amounts of flavour. See the grinding page for info and photos on this. (Link opens in new window)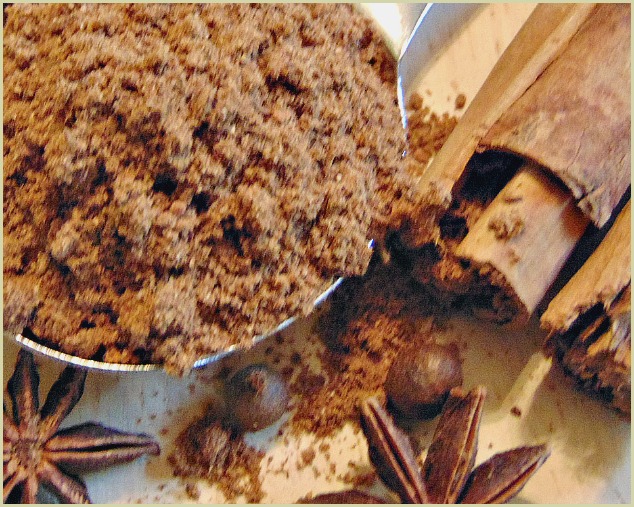 ---
Spice Magic Recipe Book



If You Would Like More Recipes Like the Above,
You Can Now Buy My Book.
Click the Cover For Further Info. (Link opens in new tab)
---
After Making Your Pumpkin Mix You May Like to Try...
Burger Seasoning -
Fab Flavours For Your
Homemade Burgers


La Kama - The Versatile,
Peppery Mix Enjoyed in
Moroccan Cuisine

A Collection of Poultry Seasonings
For Fab Home Cooked
Chicken and Turkey
---
---