Tabil - A Versatile, Traditional Mix
Enjoyed in Tunisian Cuisine

Using a combination of four spices, tabil is a super easy-to-make, traditional blend often used in Tunisian cuisine. Though it only uses four ingredients it will still add fabulous flavours to soups and stews and can be used as a rub for grilled or roast meat. (See the bottom of the page for links to more of my recipes)

What You'll Need: (makes about 4-5 tablespoons)
4 tbsp coriander seeds
4 tsp garlic powder
1 tbsp caraway seeds
1 tbsp chili flakes (or 2 tsp chili powder)
tbsp = tablespoon
tsp = teaspoon
Directions:
Grind the whole coriander, caraway and chili flakes 
Once ground, sieve into a bowl
Finally, stir in the garlic powder. (Add the chili as well if you used powder)


That's all there is to it!

Store your Tunisian seasoning in a cool place in an airtight jar out of direct sunlight. Use within 3 months before making more.
Note: I recommend dry toasting the coriander seeds prior to grinding and combining. This will add even more flavours to your recipe.
Click here for step-by-step tips on toasting and grinding. (Link opens in new window)


---

Ingredient Note: If you have them available I recommend you use whole seeds and flakes. If you don't have them all, just use pre-ground powders and reduce the amounts the recipe says by half. For example, 4 tablespoons of coriander seeds equals about 2 tablespoons pre-ground coriander. Reduce the caraway seeds by half as well if you don't have them whole.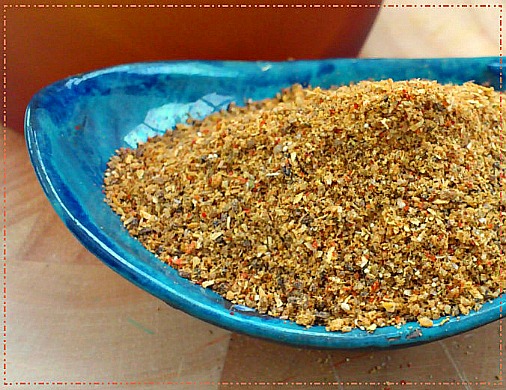 ---
Here's a short video of how I made it:
---
Spice Magic Recipe Book



If You Would Like More Recipes Like the Above,
You Can Now Buy My Book.
Click the Cover For Further Info. (Link opens in new tab)
---
After Making Your Homemade Tunisian Tabil Recipe
 You May Like to Try...
---
---