Homemade Seasoning Recipes - Adding
Fabulous Flavours to Home Cooking!
The right combination of spices and herbs can turn a good meal into an outstanding one! And creating your own homemade seasoning recipes is highly recommended if you value quality, mouthwatering home cooked food!
Most can be made in minutes and the flavours, colours and aromas they add to your food just have to be experienced! Click the Image Links below for all your favourites.
Homemade Seasoning Recipes
Pumpkin Pie Spice -
Perfect For All Your
Puddings and Desserts

Berbere - The Classic
Ethiopian and North
African Blend

Chinese Five Spice For
Authentic Asian Cooking
Seafood Boil - Perfect
For Infusing Flavours
in Shrimp, Crab or
Crawfish Etc

Herby Sausage Mix -
Ideal For All Your
Ground Pork Cooking

Ras el Hanout - Enjoy
the Fab Flavours of
Morocco Cuisine
Note: I recommend using as many whole ingredients as you can for these seasoning recipes, but sometimes you may not have them all available. If you don't have them all to hand, it's fine to use quality pre-ground powders. Just reduce the amounts you use by half and stir in with any other powders.

Getting the Most Out of Your Seasoning Recipes...
I use a lot of whole spices in the above and recommend toasting them. This is really simple and only takes a few minutes! See my grinding page for "step-by-step" tips and photos. (Link opens in new window)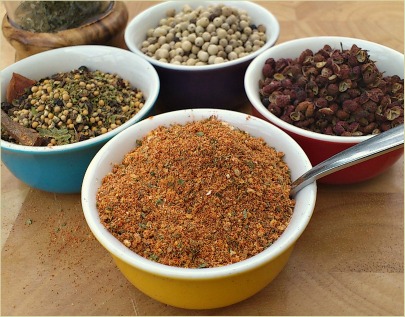 There are a few pre-ground powders worth always having in your rack: turmeric, onion, ginger, garlic and paprika. Plus a couple of minor ones that you only use occasionally. 
Read more for details on which ones. (Link opens in new window)
But Why Not Just Buy Some?
Make your own and you have control of the ingredients! You don't have to rely on what the manufacturer deems fit to include...
...Not keen on a certain ingredient? Leave it out, or swap with another. On a low salt diet? Leave out the salt, or reduce the amount you use.
Like your powders really fiery? Add an extra teaspoon of chili or cayenne. Likewise reduce the amount if you fancy it a bit milder.
Nothing is set in stone, so feel free to experiment!


Image Links to Other Recipes You May Like to Try
---
---