Popcorn Seasoning - How to Make Hot
Buttery Popcorn With a Spicy Curry Twist
There was no popcorn seasoning when I was growing up in the 70's! Not here in the UK anyway. Butter and salt was what we had to make do with. But a quick look in the stores and there is a whole host of tasty-sounding concoctions: Cajun flavour, Italian and BBQ blends to name a few. This is my version of a curry flavoured seasoning.
What You'll Need: (makes about 4 tablespoons)
2 tbsp coriander seeds
1 tbsp cumin seeds
2 tsp garlic flakes (or 1 teaspoon powder)
1 tsp paprika powder
1 tsp ginger powder
1-2 tsp salt
½ tsp turmeric powder
tbsp = tablespoon
tsp = teaspoon
Directions:
Once ground add to a bowl
Finally, add the turmeric, ginger and paprika powders to the bowl and combine thoroughly (Add the garlic as well if you used powder)


Store your popcorn seasoning in a cool place in an airtight jar out of direct sunlight. Use within 3 months before making a fresh amount.
Note: Dry toasting the cumin and coriander seeds before cooling and grinding will add even more flavour to your mix and therefore your popcorn. See the grinding page for info on this. (Link opens in new window)
---
---

Ingredient Note: For the best flavours, I recommend you use whole coriander and cumin seeds. If you don't have one or the other, you can use pre-ground coriander and cumin powder, just halve the amount you use. So instead of 2 tablespoons coriander seeds you would use 1 tablespoon of pre-ground coriander. Reduce the cumin by half as well if you don't have whole and stir in with the other powders.
A Step-by-Step Instructional Video
Here's a slideshow of how I made a version of the above powder. If you enjoyed it, you can click the subscribe button in the bottom right corner in the video, OR, click the subscribe link below the video...


Click here to Subscribe to my Youtube Channel
(Link opens in new window)

Using the Popcorn Seasoning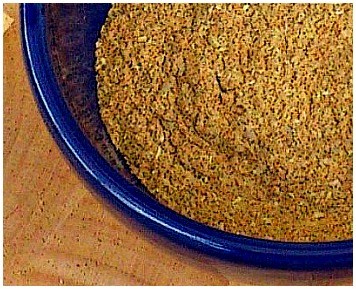 How to Use: I usually make 2 servings of popcorn at a time and for that I pour about 6 tablespoons of melted butter all over with about 2 tablespoons of the mix stirred in.
I then give it all a good shake so it gets evenly coated.
If you need to make more servings, just increase the amount of butter and popcorn mix you use.
Note: There is a teaspoon or two of salt in the recipe.
However, some folks like theirs really salty. If so, you can sprinkle over some more after making.


After Making Your Homemade 

Popcorn Seasoning You May Enjoy...

Zatar - The
Nutty,Traditional
Middle Eastern Mix

Mulling Spices - For
a Glass of Spiced
Wine Anytime
of Year

A Collection of Dry
Rubs - Perfect For
Sealing in Delicious,
Tasty Juices
---
---