A Collection of Delicious Homemade
Creole Seasoning Recipes
Making your own Creole seasoning is the key to capturing the flavours and aromas from this most cosmopolitan of cuisines. This unique style of cooking is a fabulous melting pot of food with influences from many cultures: Spanish, French, Portugese and Italian to name just a few. And it can be used for recreating the taste of many classic dishes: gumbos, dirty rice, yakamein, crayfish bisque or a traditional jambalaya are just a few dishes you could try.
Click the Image Links below for your favourites.
---
---

Ingredient Note: For the best flavour when making your blends, I advise using whole ingredients when you can. However, if you don't have all of them available just use quality pre-ground powders and reduce the quantity the recipe requires by half. For example, if the recipe says 2 tablespoons of cumin seeds and you only have pre-ground to hand, you would use 1 tablespoon of ground cumin and stir in with any other powders when making.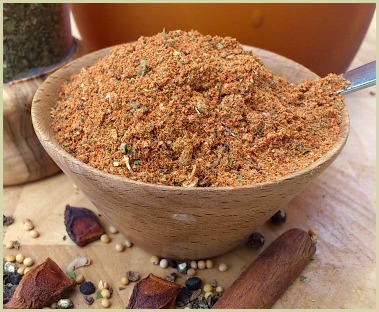 A Step-by-Step Instructional Video
Here's a video of how I made one of the above Creole powders. The ingredients may be slightly different but the process is exactly the same. If you enjoyed it, you can click the subscribe button in the bottom right corner in the video, OR click the link below the video...


Click here to Subscribe to my Youtube Channel
(Link opens in new window)

After You've Made Your Homemade Creole Seasoning You May Enjoy...
---
---