Homemade Chinese Five Spice Powder For
Authentic Asian Flavours and Aromas
A traditional Chinese five spice is made up of varying quantities of cinnamon, cloves, fennel, star anise and Sichuan peppercorns. The great thing about making your own is you can adjust the ingredients to suit whatever you're cooking and it is the one I turn to for my stir-fry recipes and noodle dishes. (See the bottom of the page for links to more of my recipes)
What You'll Need: (makes about 5 tablespoons)
2 x 3 inch pieces cassia cinnamon (or other cinnamon)
1 tbsp fennel seeds
2 tsp black peppercorns (or Sichuan peppercorns)
1 tsp whole cloves
5-6 whole star anise
tbsp = tablespoon
tsp = teaspoon
Directions:
Break up the cinnamon stick and star anise into smallish pieces
Finely grind these pieces in your grinder along with the fennel seeds, peppercorns and cloves
Once ground, sieve into a bowl


That's it!
Store your Chinese 5 spice powder in an airtight jar out of direct sunlight and in a cool place. Use within 3 months before making a fresh amount.
Note: If you're using whole ingredients, I recommend you dry toast them for a few minutes prior to letting them cool and grinding.
This greatly intensifies the flavours and aromas. Click here for photos and tips on toasting and grinding ingredients. (Link opens in new window)


---

Ingredient Note: If you can, use whole ingredients for this Asian blend and grind them yourself as this will add more flavours and aromas to your Chinese cooking. However, if you haven't got them all just use pre-ground ingredients instead. If you use powders, reduce the amounts you use by half. For example, 1 teaspoon of whole cloves equals ½ teaspoon of pre-ground cloves etc. Click here for a super-simple version that just uses pre-ground powders. (Link opens in new window)


General Info You May Find Useful
Even though the origins of this traditional Chinese five spice powder are lost in the mists of time...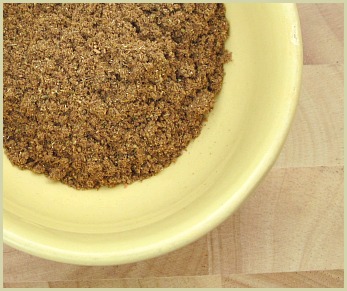 ...it's generally thought that these five ingredients were chosen as they encompass our five taste sensations which are:
pungent, bitter, salty, sweet and sour.
This supposedly balances the yin and yang in food which is important in Chinese philosophy.
Then again, maybe a cook a long time ago was experimenting and just struck lucky and found a mixture that works!


After Making Your Chinese Five Spice Recipe 
You May Like to Try...
Seafood Boil - A 
Traditional Mix of
For Infusing the
Flavours of Shellfish

Old Bay Seasoning -
If Fish, Shrimp,
Lobster etc Are
on the Menu

Garam Masala
Collection For
Awesome Indian 
Home Cooking
---
---