Baharat - The Flavourful Blend
Enjoyed in Middle Eastern Cooking

Translated from Arabic, baharat means "spices" and this traditional seasoning is used throughout the Middle East with many regional variations. It's a versatile blend and can be blended with oil and rubbed on meat before roasting. It's also an excellent all-purpose seasoning. (See the bottom of the page for other recipes)

What You'll Need: (makes about 7-8 tablespoons)
3 tbsp coriander seed
3 tbsp sweet paprika (or regular)
2 tbsp black peppercorns
2 tbsp cumin seed
2 tsp green cardamom pods
2 tsp chili powder
2 tsp ajwain seeds
1 tsp grated nutmeg
1 tsp cloves
3 inch piece of cinnamon
1 tsp sea salt 
tbsp = tablespoon
tsp = teaspoon
Directions:
Break up the cinnamon stick

Grind the cinnamon along with the cardamom pods, coriander, cumin, peppercorns, ajwain, cloves and salt
Finally, add the paprika, chili powder and nutmeg and combine thoroughly


Store in an airtight jar in a cool place and out of direct sunlight. Use within 3 months before making a fresh lot.
Note: Whilst this is aromatic and tasty as it is you could dry toast the coriander, peppercorns, cardamom, cloves and cumin before grinding to release even more aromas and flavours. 
Click here for step-by-step tips on this highly recommended process. (Link opens in new window)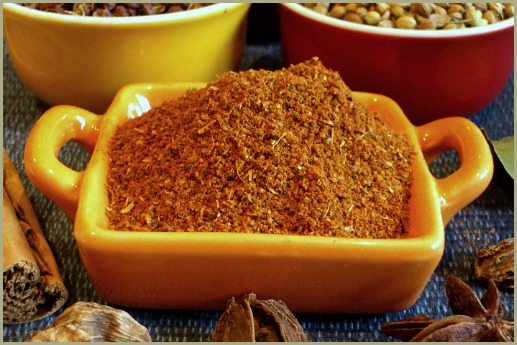 ---

Ingredient Note: For the best flavours, I use a few whole ingredients in this recipe. If you don't have them available use pre-ground powders and reduce the quantities by half. For example, 2 tablespoons of peppercorns equals 1 tablespoon of pre-ground pepper. Reduce any other ingredients you don't have whole by half as well and stir in with any other powders when making.


---
Spice Magic Recipe Book



If You Would Like More Recipes Like the Above,
You Can Now Buy My Book.
Click the Cover For Further Info. (Link opens in new tab)
---
After Making Your Baharat Spice Mix You May Like to Try...
Homemade Bouquet 
Garni - The Classic 
French Seasoning

Advieh - Also Popular in 
Middle Eastern Cooking
and Packed Full of Flavour


A Collection of Herb
and Spice Blends For
Fab Home Cooking

---
---