Adobo Seasoning - Capture the Fab flavours
and Aromas of Latin American Cuisine
This is adobo seasoning, a garlic and onion based blend with a hint of citrus that is used throughout Latin American. This all-purpose recipe is excellent when sprinkled over roasted vegetables, soups and meat and bean dishes. Interestingly, the term adobo also refers to a famous dish enjoyed in the Philippines. (See the bottom of the page for other recipes)
What You'll Need:
(makes about 10 tablespoons)
3 tbsp onion powder
3 tbsp garlic powder
3 tbsp dried Mexican oregano (see note below)
2 tbsp dried lemon peel
1 tbsp paprika powder
1 tbsp salt (see note below)
4 tsp dried basil
4 tsp cumin seeds
4 tsp black peppercorns
6 dried bay leaves

tbsp = tablespoon
tsp = teaspoon

Directions:

Grind the bay pieces along with the dried lemon peel, salt, peppercorns and cumin seeds
Once ground, sieve into a bowl
Add the garlic, paprika and onion powders to the bowl and combine
Finally, crumble in the dried basil and oregano and combine again


Store your adobo seasoning mix in a cool place in an airtight jar out of direct sunlight. Use within 3 months before making more.
Note: Dry toasting the cumin and peppercorns before grinding and combining will add even more flavour to your final blend. Click here for tips and photos on toasting and grinding. (Link opens in new window)
Note 2: I used Mexican oregano because I had some available. However, despite Mexican being different from regular oregano you can use regular if that's all you have available.
Salt Note: I recommend using a good quality salt: sea, rock, flakes etc. And usually, the better the quality the less processed they are, and I think, add better flavour! However, simply use regular table salt if that's all you have available. OR, if you're on a low sodium diet, you could reduce the amount or leave it out altogether.
---
---

Ingredient Note: I recommend you use whole ingredients where you can for this adobo seasoning recipe. If you don't have them all whole, you can use pre-ground powders and reduce the amounts the recipe requires by half. So instead of 4 teaspoons of cumin seeds you would use 2 teaspoons of pre-ground cumin. Reduce any others you don't have whole by half as well and stir in with any other powders when making.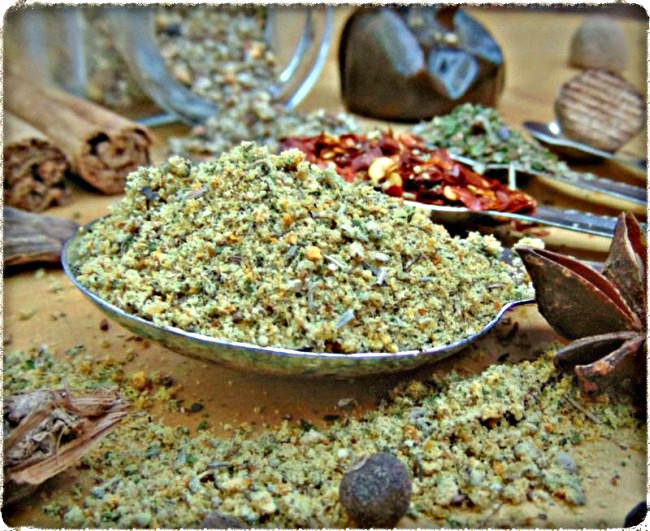 A Step-by-Step Instructional Video

Here's a video of how I made a version of the above adobo powder. The ingredients may be slightly different but the process is exactly the same. If you enjoyed it, you can click the subscribe button in the bottom right corner in the video, OR click the link below the video...


Click here to Subscribe to my Youtube Channel
(Link opens in new window)


After Making Your Adobo Seasoning Recipe You May Like to Try...
Herbes de Provence - The
Famous, Easy-to-Make
French Herb Bland

Baharat - The Complex,
Flavour-Packed Middle
Eastern Classic


Curry Powder Collection -
Ideal For the Fans of
Authentic Indian
Cooking

---
---