Duqqa - The Nutty Egyptian Blend of
Toasted Hazelnuts and Sesame Seeds

If you're after a seasoning that uses toasted hazelnuts and sesame seeds then duqqa (dukka) is the one for you! Travel to Egypt in particular, though you'll often find it in Australia too, and you'll get to enjoy this traditional mix everywhere. It's often blended with olive oil and used as a bread and vegetable dip. It can also be added to many other dishes as a general seasoning. (See the bottom of the page for other recipes)
What You'll Need: (makes about 9-10 tablespoons)
10 tbsp shelled hazelnuts
6 tbsp sesame seeds
2 tbsp coriander seeds
1 tbsp cumin seeds
1 tbsp black peppercorns
4 tsp dried parsley
2 tsp chili powder
1 tsp dill seeds
1-2 tsp salt

tbsp = tablespoon
tsp = teaspoon
Directions:
Dry toast the hazelnuts for a few minutes over a medium heat. Stirring or shaking the pan will help prevent burning
When you can really smell the nutty aromas and the hazelnuts start shedding their skin, add the sesame seeds, coriander, cumin and peppercorns to the pan and dry toast for another few minutes
When toasted, take the pan off the heat and add the ingredients to a bowl and let cool
Once cooled, add the ingredients to your grinder and coarsely grind along with the salt, dill and parsley. (Depending on the size of your grinder you may need to grind a few tablespoons at a time)
Finally, stir in the chili powder
Store in an airtight jar out of direct sunlight and in a cool place. Use within 2-3 months. 

Note: Click here to read more about toasting and grinding ingredients. (Link opens in new window)


---

Ingredient Note: If you don't have the whole spices, just use pre-ground powders and reduce the amounts the recipe requires by half. So instead of 2 tablespoons of whole coriander you use 1 tablespoon of pre-ground coriander. Reduce any others you don't have whole by half as well and stir in with any other powders when making.

Ingredient Note 2: Whole hazelnuts and sesame seeds are also best. But if you can only get pre-ground use these and stir in with any other powders.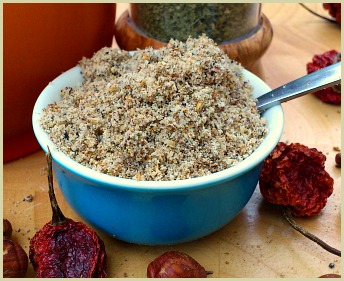 After Making Your Egyptian Duqqa Seasoning You May Enjoy...
Herbs de Provence - 
The Classic, French 
Herb Blend


Lemon Pepper - A 
Tasty Blend of Lemon 
Peel and Peppercorns


A Collection of BBQ
Rubs For the
Grilling Fans
---
---