Jamaican Jerk Rub - Capture the Authentic
Flavours of Jamaican and Caribbean Cuisine
Traditionally, Jamaican jerk rub was used to tenderise and season tough goat meat, but today this classic Caribbean rub is used for flavouring a whole range of grilled meats and only takes minutes to make. (See the bottom of the page for links to more of my recipes)

Note: For the best flavours I try and use as many whole spices as possible. However, not everyone has whole, so if this is the case, just use pre-ground, If you do, reduce the amounts by about half for whatever ones you don't have. So if it says 4 tablespoons coriander seeds you use 2 tablespoons of pre-ground coriander. Reduce any others you don't have whole by half as well and stir in with any other powders when making.
Recipe For Homemade 

Jamaican Jerk Rub
What You'll Need: (makes about 10 tablespoons)
4 tbsp coriander seeds
3 tbsp chili flakes (or 2 tablespoons chili powder)
2 tbsp allspice berries
2 tbsp garlic powder
2 tbsp dried basil
2 tbsp brown sugar 
1 tbsp ground ginger
4 tsp white peppercorns (or black)
4 tsp dried thyme
2 tsp grated nutmeg
2 tsp annatto seeds (optional)
3 inch piece cinnamon
1 tsp cloves

tbsp = tablespoon
tsp = teaspoon
Directions:
Grind the cinnamon with the annatto (if using), chili flakes, sugar, coriander, peppercorns, cloves and allspice berries
Finally, crumble in the basil and thyme. Stir again
Storing and Grinding Tips: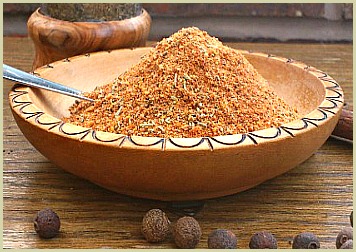 Store your jerk rub out of direct sunlight in an airtight container. 
Use within 3 months.
Note: Dry toasting the coriander, peppercorns, cloves and allspice berries before grinding will add even more flavours to your finished blend. 
Click here for info on this recommended cooking technique. (Link opens in new window)
Here's a Short Video of How I Made it

: (Click bottom right to expand the video)

After Making Your Jamaican Jerk Seasoning, Why Not Try These?
A Spicy Jerk Rub Made
With Fiery Scotch
Bonnet Peppers


A Super Versatile Jerk
Spice For All Your
Caribbean Dishes


A Collection of Masala
Blends For Authentic
Indian Cooking
---
---