Mulled Wine Spices Recipe - Enjoy a
Delicious, Traditional Drink Anytime
With this simple homemade mulled wine spices recipe you'll never be short of a delicious glass of spiced wine! This traditional drink is typically served warm and is a favourite especially around Christmas time, but you can drink it at any time. (See the bottom of the page for other recipes)
Note: If you want to make only enough for a single bottle of wine reduce the quantities accordingly. I generally use 2 tbsp of the mix per 750ml bottle.
What You'll Need: (makes enough for 4 bottles)
3-4 whole star anise
4 tsp allspice berries
8-10 green cardamom pods
2 tsp whole cloves
1 x 3 inch cinnamon stick
2 tsp brown sugar
Zest of 1 orange
4 tsp grated fresh ginger
tbsp = tablespoon
tsp = teaspoon
Directions:
Break up the cinnamon sticks and star anise
Combine all the cinnamon and anise with the other dry spices and sugar and place in a cheesecloth square
Bring all the corners together and tie the ends with thread so you have a sealed parcel
You add the orange and ginger separately when making the drink
That's it! Ready to use.
Note: You can buy dedicated mulling bags and these may be a good idea if you make a lot of mulled wine/cider. Otherwise cheesecloth makes a good, inexpensive alternative.
Note ll: Just before adding to the simmering pot, give the parcel a bash with something heavy; a rolling pin is good. This will crack the whole ingredients releasing more of their flavours.

How to Make Mulled Wine
Add your wine to a saucepan and, over a low heat, heat to a simmer
Add the mulling parcel/bag, fresh ginger and orange

Simmer for 20-25 minutes then turn off the heat
Using a slotted spoon, scoop out the parcel
Drink warm or hot and enjoy!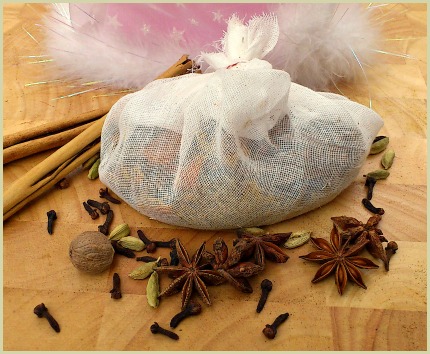 After Making Your Homemade Mulled Wine Spices
 You May Like to Try...
Apple Pie Mix - Fab
Flavours For Your
Apple Pies and
Other Dessserts

Old Bay Seasoning -
Perfect For All
Your Seafood and
Shellfish Cooking 

A Collection of
Homemade Mixes
For Fabulous
Home Cooking
---
---