Pumpkin Pie Spice Recipe With Caraway and
Allspice - Great For Pie and ALL Desserts
This easy to make homemade pumpkin pie spice recipe has the added flavour of caraway and allspice berries along with the usual 4 ingredients. Perfect for pumpkin pie, it's also excellent in many other foods and goes really well with sweet potato dishes, cookies, puddings and various soups. (See the bottom of the page for other recipes)
What You'll Need: (makes 5 tablespoons)
3-4 inch piece of cinnamon stick
1 tbsp ground ginger
1 tbsp caraway seeds 
4 tsp allspice berries
2 tsp grated nutmeg
2 tsp whole cloves

tbsp = tablespoon
tsp = teaspoon
Directions:
Stir in the ginger and nutmeg 
Store in an airtight jar out of direct sunlight. Use within 3 months.
It really is that easy!
Note: However, if you really want to maximise flavour for this pumpkin pie spice recipe, I recommend dry toasting the cloves and berries prior to grinding and combining.
See the grinding page for "step-by-step" info and photos on this. (Link opens in new window)


---

Ingredient Note: If you don't have all the whole ingredients available for this recipe, use pre-ground powders. Just remember to reduce the quantities by half. For example 2 teaspoons whole cloves equals about 1 tsp pre-ground powder. Reduce any others you don't have whole by half as well.

Why You Should Make Your Own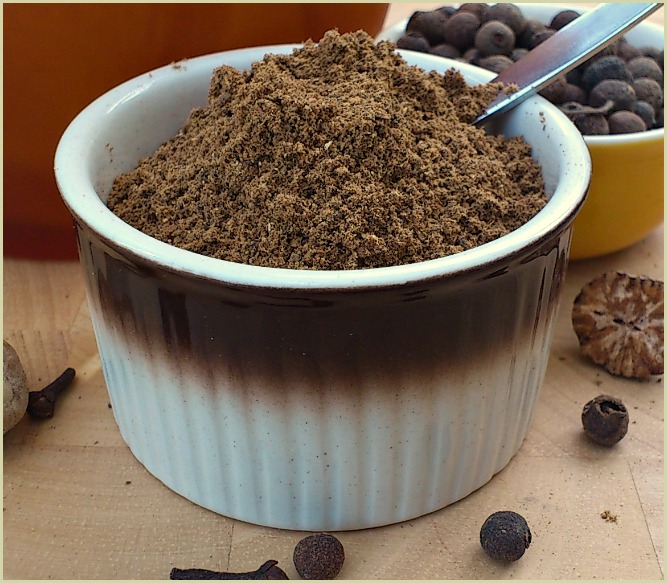 Of course it's easy to pick up a jar from the store, but I urge you to have a go at making your own and comparing the difference between the two.
I promise, once you savour the fabulous aromas and flavours they add to your pies, puddings and desserts, that you'll find it difficult to go back to the dull, commercial pumpkin blends!
Another good reason to make your own is that you decide what goes in. Fancy more cinnamon? Add some. Want to use less cloves? Reduce the amount etc.

Here's a Short Video of How I Made it...
After Making Your Pumpkin Pie Spice Recipe You May Like to Try...
Greek Seasoning -
Capture the Essence
of Greek Cuisine

Shichimi Togarashi -
Better Known as 
Japanese Seven Spice


A Range of Poultry 
Seasonings For
Game, Turkey
and Chicken
---
---