Zaatar - The Nutty, Flavour-Packed
Seasoning Enjoyed in Middle East Cooking

Zaatar is a super versatile blend enjoyed throughout the Middle East. This flavour-packed blend of toasted sesame seeds and herbs and spices, is often used as a general seasoning for meat and vegetable dishes or infused in olive oil for use as a spread or dip for pita bread. (See the bottom of the page for other recipes)

What You'll Need: (makes about 7-8 tablespoons)
5 tbsp sesame seeds (white or black or a mix of the two)
3 tbsp ground sumac
2 tbsp dried thyme
4 tsp dried marjoram
4 tsp coriander seeds
2 tsp dill seeds
2-3 tsp sea salt
tbsp = tablespoon
tsp = teaspoon
Directions:
Grind the salt, dill tips and coriander and sesame seeds
Once ground add to a bowl
Add the sumac powder to the bowl and stir in
Finally, crumble in the dried thyme and marjoram and stir again


Store out of direct sunlight in a cool place and in an airtight jar. Use within 3 months.
Note: You can dry toast the sesame and coriander seeds prior to cooling and grinding. The heat really draws out the nutty flavours. Click here for step-by-step tips and photos on this highly recommended cooking process. (Link opens in new window)


---
---

Ingredient Note: I use sesame seeds and a few whole spices for this recipe. However, if you don't have whole available simply use their pre-ground versions and reduce the quantities the recipe requires by half. For example, for 4 teaspoons of coriander seeds you would use 2 teaspoons of pre-ground coriander. Do likewise with the dill and sesame seeds if you only have ground to hand.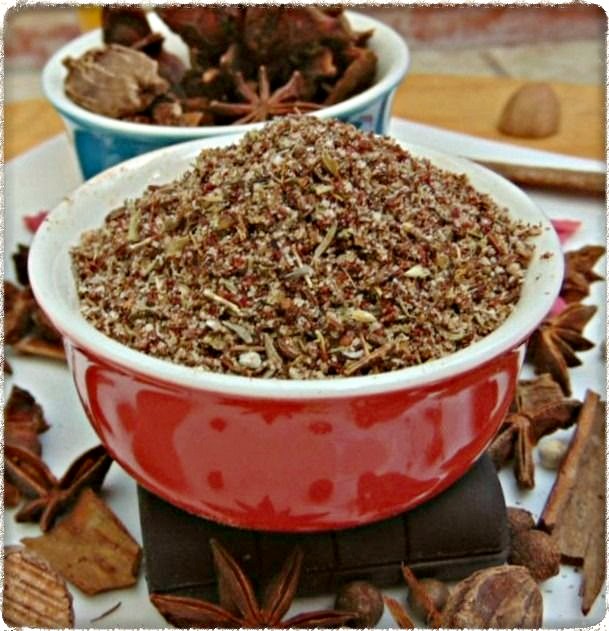 A Step-by-Step Instructional Video
Here's a video of how I made a version of the above zaatar. The ingredients may be slightly different but the process is exactly the same. If you enjoyed it, you can click the subscribe button in the bottom right corner in the video, OR click the subscribe link below the video...

Click here to Subscribe to my Youtube Channel
(Link opens in new window)

After Making Your Zaatar Blend You May Like to Try...
Sambar Podi - The Classic, Flavour-Packed Sri
Lankan Blend

Baharat Recipe - An Aromatic
Blend Chock Full of Middle
Eastern Flavours

A Collection of Jerk Rubs For
a Small Taste of Jamaica
and the Caribbean 

---
---