Bafat - The Versatile, Traditional Mix
Enjoyed in Mangalorean Cooking
Bafat (baffat) is an easy-to-make blend that is popular in Indian cooking. It's often used to season and flavour pork, but I find it works well with other meats and also makes an excellent general seasoning for many more of your home cooked dishes. (See the bottom of the page for links to more of my recipes)
Note: The recipe below uses a few whole spices as these will add the best flavours. If you don't have them all whole, just use pre-ground powders and reduce the amount  the recipe requires by half. For example, 2 tablespoons of coriander seeds equal 1 tablespoon of pre-ground coriander. Reduce any others you don't have whole by half as well and stir in with any other powders when making.
Homemade Bafat Masala Powder

What You'll Need: (makes about 10 tablespoons)
Half a cup of dried chili peppers (hot or mild)
4 tbsp coriander seeds 
2 tbsp cumin seeds
1 tbsp black peppercorns
4 tsp yellow mustard seeds
2 tsp turmeric
2 tsp garlic powder
1 tsp ginger powder
1 tsp whole cloves
1 x 3 inch piece cinnamon 
20-30 dried curry leaves
tbsp = tablespoon
tsp = teaspoon
Directions:
Break up the cinnamon and chop the peppers (so they fit in your grinder)
Grind the cinnamon and pepper pieces along with the peppercorns, cumin, coriander, mustard and cloves
Stir in the ginger, garlic and turmeric powders
Crumble in the curry leaves and stir again
Store your Indian masala in an airtight jar out of direct sunlight. Use within 3 months before making a fresh amount.

Toasting and Grinding Tips: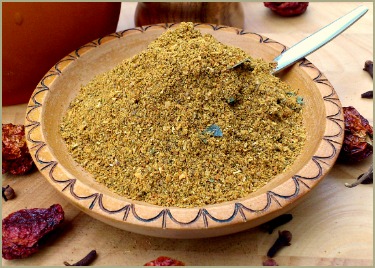 Note: As you've gone to the effort of making your own, I do recommend dry toasting the pepper pieces and other whole ingredients before grinding.
The heat from the toasting releases the most wonderful flavours and fabulous aromas.
Click here for tips, photos and a video of how to toast and grind ingredients. (Link opens in new window)


After Making Your Bafat Masala You May Like to Try...
Pumpkin Spice - Fab
Flavours For All Pies
Puddings and Desserts

A Homemade Popcorn
Flavouring With a
Cajun Twist!

A Collection of Spice
Blends For Fabulous
Home Cooking
---
---