Gomasio - A Traditional Japanese Blend That's
Ideal For Those Folks on a Low Sodium Diet

Gomasio (gomashio) is a simple Japanese seasoning mix of black or white sesame seeds (or both) and sea salt. It makes an ideal condiment for those folks on a low sodium diet and is used in Japanese cooking for sprinkling over rice dishes, salads, egg dishes, cooked vegetables and anywhere else you may use salt. (See the bottom of the page for links to more of my recipes)
What You'll Need: (makes about 4-5 tablespoons)
4 tbsp white sesame seeds
4 tbsp black sesame seeds
1 tbsp coarse sea salt

tbsp = tablespoon

Directions:
Over a medium heat and in a dry pan, dry toast the sesame seeds over a medium heat whilst stirring for a few minutes
When you can really smell the aromas and the white ones start to darken slightly, they're ready
Take off the heat, add to a bowl and let cool for a few minutes
Once cooled add them to your grinder (or mortar and pestle) with the salt and very coarsely grind. Pressing the button for a second at a time will help you avoid grinding too fine


Store your gomasio in an airtight container in a cool place and out of direct sunlight. Use within 2 months.

Note: If you've never toasted or ground ingredients before, you can read more info about this on the grinding spices page. (Link opens in new window)


---

Ingredient Note: The recipe above works out at 8 parts sesame seeds to 1 part salt. If you're using this because you are on a low sodium diet, you could increase the ratios to 10 parts (or more) sesame seeds to 1 part sea salt.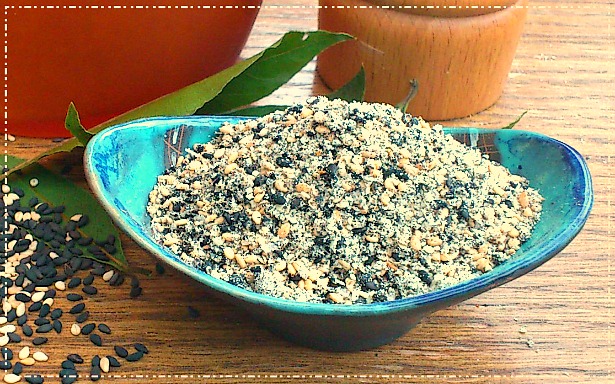 Here's a slideshow of how I made this Japanese seasoning...
Click here to Subscribe to my Youtube Channel
(Link opens in new window)


After Making Your Homemade Gomasio
 Recipe You May Like to Try...
---
---