Mulled Wine Mix - Enjoy a Traditional, Hot
Spiced Drink All the Year Round
Though traditionally drunk around Christmas, make your own mulled wine mix and you can enjoy a glass or two any time of year. So light the log fire and get ready to enjoy a glass of hot mulled wine or cider! (See the bottom of the page for links to more of my recipes)
Note: Whilst you can buy specialist mulling bags, I personally use a square of cheesecloth/muslin big enough to hold a couple of tablespoons of mulling spices in the centre. 2 tablespoons is enough for one 750ml bottle. So the recipe below is enough for four 750ml bottles.
What You'll Need: (makes about 8 tablespoons)
3-4 whole star anise
2 tbsp allspice berries
10-12 green cardamom pods
2 tsp whole cloves
1 whole nutmeg
2 x 3 inch cinnamon sticks
2 tbsp chopped dried orange peel
2 tbsp chopped dried ginger root
tbsp = tablespoon
tsp = teaspoon
Directions for one bottle:
Break up the nutmeg, star anise and cinnamon sticks
In a bowl, combine the cinnamon, star anise and nutmeg pieces with the cardamom, cloves, allspice, orange and ginger 
Place 2 tablespoons of the combined ingredients in an 8 inch square of cheesecloth (what you don't use can be stored in a jar for future use)
Use according to your recipe. Or, see below for how I use it


Tip: To get the best flavours out of your mulled wine mix, a good idea is to bash your parcel just before using so you crack the ingredients a bit. A rolling pin is ideal for this.
Before you bash it, first wrap the parcel in a tea towel. This will prevent the cheesecloth splitting.
Here's a Short Slideshow of How I Made it...
How to Make Mulled Wine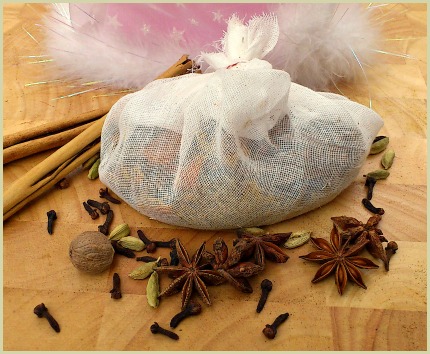 How to Make Enough For 1 bottle:
That's all there is to it. Drink hot or warm and enjoy!


After Making Your Homemade Mulled Wine Mix
 You May Enjoy...
---
---