Homemade Mustard Rub - Complements
Pork and Chicken Perfectly!

Mustard rub is one of those spice blends you don't often come across in the stores. But as it's easy to make at home, this is not a problem. I like to use this mix with pork as we all know pork and mustard go together sooo well! It's also very good when barbecuing chicken. (See the bottom of the page for links to more of my recipes)

What You'll Need: (makes 8-9 tablespoons)

3 tbsp mustard powder
2 tbsp dried oregano
1 tbsp dried sage
1 tbsp black peppercorns
1 tbsp allspice berries
4 tsp cumin seeds
4 tsp brown sugar
4 tsp garlic powder
2 tsp salt (see note 2 below)
2 tsp cayenne pepper

tbsp = tablespoon
tsp = teaspoon
Directions:
Grind the allspice, cumin, sugar, salt and peppercorns



Store your mustard rub in an airtight jar out of sunlight and in a cool place. Use within 3 months before making more.

Note: Dry toasting the cumin, peppercorns and allspice berries beforehand is recommended as this will add even more flavours. Click here to read more about toasting and grinding. (Link opens in new window)
Note 2: I recommend using a quality rock/sea/kosher salt but you could also use regular table salt if that's all you have to hand.


---

Ingredient Note: Use whole spices if you have them to hand. If not, substitute with pre-ground powders, but remember to reduce the quantities by about half. So instead of 2 teaspoons of cumin seeds, you would use 1 teaspoon of cumin powder. Reduce any other ingredients you don't have whole by half as well and stir in with any other powders when making.


Using Your Dry Rub Recipes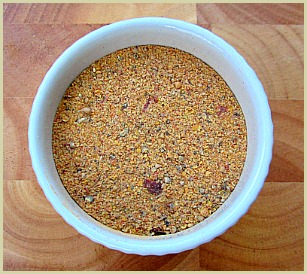 How to Use...
This is how I do it; if you have a tried and trusted method, carry on doing that.
Liberally sprinkle over your piece of meat and massage in so you get a good coating
Cover and place in your refrigerator for at least an hour or, for better flavours, overnight
Let the food return to room temperature before cooking
After Making Your Mustard Rub You May Like to Try...
---
---