Poultry Spices - An Easy-to-Make Herby
Blend For Game, Turkey and Chicken
This recipe for poultry spices is a good all-rounder and is ideal for when barbecuing chicken or turkey. And, with a little bit of paprika, it also works with game birds. It uses a lot of dried herbs which go nicely with the more delicate types of meats and you can use it as a rub or a general seasoning. (See the bottom of the page for links to more of my recipes)
Note: If you don't have whole peppercorns or onion flakes, you can use ground powders. If you do, just reduce the amounts the recipe says by half. So instead of 2 tablespoons of peppercorns you use 1 tablespoon of ground pepper. Reduce the onion flakes likewise if necessary.
Homemade Recipe For
Poultry Spices
Ingredients: (makes about 12 tablespoons)
3 tbsp dried parsley
3 tbsp dried sage
3 tbsp dried marjoram
2 tbsp onion flakes
1 tbsp dried rosemary
1 tbsp black peppercorns
1 tbsp paprika powder
2 tsp garlic powder
1-2 tsp sea salt
tbsp = tablespoon
tsp = teaspoon
Directions:
Coarsely grind the parsley, sage, marjoram, rosemary, onion flakes, salt and peppercorns
Stir in the garlic and paprika
Note: Don't grind the herbs and spices too fine, you want a bit of "chunkiness".
Store your poultry seasoning recipe in an airtight jar out of direct sunlight. Use within 2-3 months.


How to Use as a Poultry Rub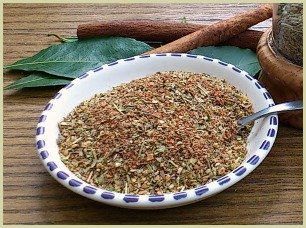 You may have your own preferred way, this is how I do mine...
...Liberally sprinkle the blend over your meat and massage in so it's evenly coated.
Cover with plastic wrap (cling film) or seal in a sandwich bag and place in your refrigerator for a couple of hours or overnight.
An hour before you begin cooking remove from the fridge and let it return to room temperature.


Image Links to Other Homemade Blends You May Like
---
---