Rasam Powder Recipe - A Super Versatile,
Flavourful Southern Indian Favourite
Rasam powder is a flavour-packed essential blend used in kitchens throughout Southern India. Often used to flavour the soup of the same name, it's also very versatile and can be used with many other dishes and it takes just minutes to make. (See the bottom of the page for other recipes)
What You'll Need: (makes about 8-9 tablespoons)
3 tbsp toor dal (pigeon pea)
3 tbsp coriander seeds
4 tsp cumin seeds
4 tsp chili powder (hot or mild)
1 tbsp fenugreek seeds
1 tbsp white peppercorns (or black)
2 tsp turmeric powder
2 tsp black mustard seeds
1 tsp asofoetida powder
10-20 curry leaves
tbsp = tablespoon
tsp = teaspoon
Directions:
Over a medium heat, dry toast the toor dal, cumin, coriander, fenugreek and peppercorns for a few minutes whilst stirring or shaking the pan.
When you can really smell their aromas, take off the heat and let everything cool for a few minutes
Once cooled, add to your grinder and finely grind along with the mustard seeds
Add the ground ingredients to a bowl
Stir in the asafetida, turmeric and chili powders
Crumble in the curry leaves and stir again


Store your rasam powder in an airtight jar and out of direct sunlight. Use within 3 months.
Note: I used toor dal for this recipe but you can use others like yellow split peas or red lentils instead. 


---

Ingredient Note: For this rasam powder, and if you have them, use as many whole ingredients as you can as these will add the best flavours. If it's more practicable, you can swap with pre-ground powders and reduce the amount the recipe requires by half. For example for 4 teaspoons cumin seeds you would use 2 teaspoons of pre-ground cumin. Reduce any others you don't have whole by half as well.


---
Toasting and Grinding Info: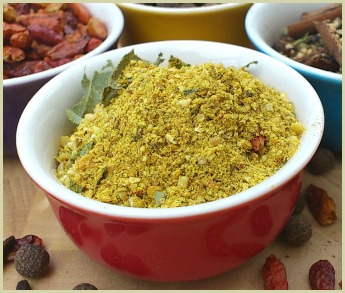 Whilst you can make this Southern Indian mix without toasting the ingredients prior to grinding, I do recommend that you do toast and grind.
The heat releases the spices' essential oils imparting fabulous, intense flavours and aromas which will be transferred to your food. 
Click here for tips and a video about this. (Link opens in new window)

Here's a Short Video of How I Made it:
After Making Your Rasam Powder You May Like to Try...
Pickling Mix- For Pickling
and Preserving Fruit and
Veg Traditional Style


Mulling Spices - Enjoy a
Delicious Glass of Mulled
Wine All Year Round


A Large Range of
Homemade Blends For
Superb Home Cooking

---
---