Berbere Recipe - The Complex, Potent
Blend Enjoyed in Ethiopian Cooking
This berbere recipe is an African blend traditionally used in Ethiopian and Eritrean cuisine. A potent, complex blend that's suited for your more robust dishes and I find it works nicely with meaty stews and casseroles, soups, stocks and lentil dishes. (See the bottom of the page for links to more of my recipes)
Note: The whole spices used will add the best flavours. However if you don't have some of them available, just use pre-ground powders and reduce the amount the recipe requires by half. So, for 2 tablespoons of peppercorns you would use 1 tablespoon of ground pepper. Reduce any other ingredients you don't have whole by half as well and stir in with the other powders when making.
Homemade Berbere Recipe
What You'll Need: (makes about 15-16 tablespoons)
4 tbsp coriander seeds 
3 tbsp paprika powder
2 tbsp turmeric powder
2 tbsp sichuan peppercorns (or black peppercorns)
1 tbsp cumin seeds
1 tbsp fenugreek seeds
1 tbsp garlic powder
4 tsp chili powder
10-12 green cardamom pods
2 tsp ginger powder
1½ tsp ajwain seeds
1 tsp allspice berries
3 inch piece cassia cinnamon
1 tsp whole cloves
4-5 mace blades
15-20 curry leaves (optional)
tbsp = tablespoon
tsp = teaspoon
Directions:
Grind the mace and cinnamon pieces along with the whole coriander, cumin, fenugreek, peppercorns, cardamom, ajwain, allspice and cloves
Stir in the paprika, turmeric, garlic, ginger and chili powders and combine well
Store your Ethiopian berbere in an airtight jar out of direct sunlight and use within 3 months.

A Little Berbere Recipe Information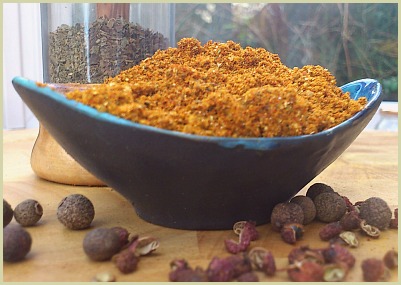 If you were to sample this blend whilst in Ethiopia, you may find ingredients that are uncommon to Western cooking...
...korarima, a type of ginger, and rue, a bitter herb which was popular in Roman cooking and is still used today in North African cuisine.
One of the key ingredients used is the often overlooked ajwain.
I think these tiny seeds should be in every food lover's spice rack! You don't find ajwain in many recipes, so buy them whole and grind enough only when you need them, and they will last you a long time.


After Making Your Berbere Recipe You May Enjoy...
 Recipe For a 
Homemade Brisket 
and Veal Rub

A Fajita Seasoning 
For Your Tex-Mex 
Recipes

Collection of Garam 
Masala Blends For 
Authentic Indian 
Cooking
---
---